EntreLeadership Book List
I just finished reading EntreLeadership by Dave Ramsey. I loved this book so much, it's going on my every year to read list. This list is a list of books that I must read each year. As I was reading, I tried to keep up with the books Dave recommended reading in his book or he referenced. This is the list. I hope to read through these books as well one day if I haven't already.
21 Irrefutable Laws of Leadership – John Maxwell
What would happen if a top expert with more than thirty years of leadership experience were willing to distill everything he had learned about leadership into a handful of life-changing principles just for you? It would change your life. John C. Maxwell has done exactly that in The 21 Irrefutable Laws of Leadership. He has combined insights learned from his thirty-plus years of leadership successes and mistakes with observations from the worlds of business, politics, sports, religion, and military conflict. The result is a revealing study of leadership delivered as only a communicator like Maxwell can.
Visioneering – Andy Stanly
Vision is a preferred future. A destination. Vision always stands in contrast to the world as it is. Visioneering, according to bestselling author Andy Stanley, is "a clear mental picture of what could be, fueled by the conviction that it should be." With warm, down-to-earth practicality, Andy Stanley explores the ordinary life of Nehemiah and his God-given vision for accomplishing the extraordinary. He shows how the life of this great ancient visionary, determined to rebuild the ruined walls of Jerusalem, reveals principles that can prepare us to find and follow God's multifaceted vision for our own lives.

48 Days to the Work You Love – Dan Miller
Conversational and creative, Miller helps the reader understand one's Godgiven skills and abilities, personality traits, values, dreams, and passions. Doing so helps us recognize clear patterns that will point toward successful decisions along the career path. Step by step, this updated edition of 48 Days to the Work You Love reveals the process for creating a Life Plan and translating that plan into meaningful and fulfilling daily work.

Good To Great – Jim Collins
The Challenge:
Built to Last, the defining management study of the nineties, showed how great companies triumph over time and how long-term sustained performance can be engineered into the DNA of an enterprise from the verybeginning.
But what about the company that is not born with great DNA? How can good companies, mediocre companies, even bad companies achieve enduring greatness?
The Study:
For years, this question preyed on the mind of Jim Collins. Are there companies that defy gravity and convert long-term mediocrity or worse into long-term superiority? And if so, what are the universal distinguishing characteristics that cause a company to go from good to great?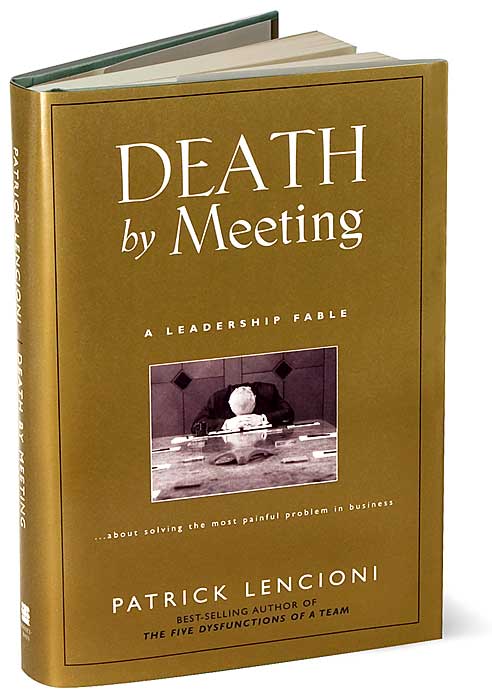 Death By Meeting – Patrick Lencioni
In his latest page-turning work of business fiction, best-selling author Patrick Lencioni provides readers with another powerful and thought-provoking book, this one centered around a cure for the most painful yet underestimated problem of modern business: bad meetings.  And what he suggests is both simple and revolutionary.

Outliers – Malcolm Gladwell
In this stunning new book, Malcolm Gladwell takes us on an intellectual journey through the world of "outliers"–the best and the brightest, the most famous and the most successful. He asks the question: what makes high-achievers different?
His answer is that we pay too much attention to what successful people are like, and too little attention to where they are from: that is, their culture, their family, their generation, and the idiosyncratic experiences of their upbringing. Along the way he explains the secrets of software billionaires, what it takes to be a great soccer player, why Asians are good at math, and what made the Beatles the greatest rock band.

The 7 Habits of Highly Effective People – Stephen Covey
In The 7 Habits of Highly Effective People, author Stephen R. Covey presents a holistic, integrated, principle-centered approach for solving personal and professional problems. With penetrating insights and pointed anecdotes, Covey reveals a step-by-step pathway for living with fairness, integrity, service, and human dignity–principles that give us the security to adapt to change and the wisdom and power to take advantage of the opportunities that change creates.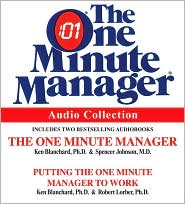 The One Minute Manager – Ken Blanchard & Spencer Johnson
The One Minute Manager is a concise, easily read story that reveals three very practical secrets: One Minute Goals, One Minute Praisings, and One Minute Reprimands.

The Little Red Book of Wisdom – Mark Demoss
Mark DeMoss gathers insights for living wisely from history, Scripture, and a lifetime of listening. The result is a handy, accessible book that gives readers a new way to enjoy lasting success in the work world and beyond. Topics include finding and keeping your focus in life, building a winning corporate culture, and setting aside time for good thinking.

In Search of Excellence – Tom Peters
Based on a study of forty-three of America's best-run companies from a diverse array of business sectors, In Search of Excellence describes eight basic principles of management — action-stimulating, people-oriented, profit-maximizing practices — that made these organizations successful.

The E-Myth – Michael E. Gerber
The E-Myth dispels the myths surrounding starting your own business and shows how commonplace assumptions can get in the way of running a business. He walks you through the steps in the life of a business from entrepreneurial infancy, through adolescent growing pains, to the mature entrepreneurial perspective, the guiding light of all businesses that succeed. He then shows how to apply the lessons of franchising to any business whether or not it is a franchise. Finally, Gerber draws the vital, often overlooked distinction between working on your business and working in your business.

Integrity – Dr. Henry Cloud
In Integrity, Dr. Cloud explores the six qualities of character that define integrity, and how people with integrity:
Are able to connect with others and build trust
Are oriented toward reality
Finish well
Embrace the negative
Are oriented toward increase
Have an understanding of the transcendent
Related articles